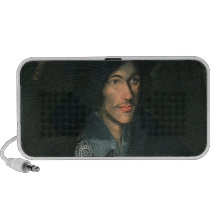 The students of the olde history of the much esteemed literature of Britain be writing poems in the style of John of the Donne this finaltide.  And forsooth they are most deserving of an audience more broad and be-steeped in learning than their instructress, and for this reason find inscribed below the words of Hannah Coble, who hath wrapped the mystery of love within a comparison to the new-fangled device of minstrelsy y-cleped I-pod.


The Bottle
by Hannah Coble
Send back my iPod home to me,
So that I may have music while I'm at sea;
I've nothing left to listen but the waves,
Who afford one tune,
Come sunlight or moon,
That it were
You prefer
Keep it then, else our playlists due their graves.
Send back my yellow earphones then,
Which we shared time and time again;
Though given their use of you and they,
To divvy him,
By use of them,
And ru'n both
But I'm loathe
To do more than toss, so keep them anyway.
Neither iPod nor earphones do I want back,
To listen and endure and remind of that I lack;
Too easy it'd be to lose myself in song,
As I was lost,
In you then crossed,
They would too
Empty as you
Would merely linger, as another you did wrong.